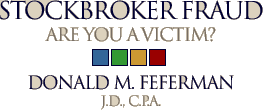 Wharton School of Finance
Harvard Law School
32 Years Experience in Recovering Losses for Investors
Free Initial Consultation
Most stockbroker fraud or malpractice involves one or more of the following types of behavior by the broker:
Churning.

When a brokers compensation is dependent upon the number and size of trades in your account, this creates a built-in conflict between trading only when it is in your best interest and trading in order to increase his commissions. When this leads to buying and selling activity in your account done mainly to increase the brokers income, you have become a victim of what is called churning. The broker is using your money to generate income for himself and is not particularly concerned whether the activity is profitable to you.



Unsuitable and/or high-risk investments.

Your broker has the obligation to be thoroughly familiar with your situation including your income, net worth, health, obligations, age, etc. in order to know how to properly advise you on which securities are appropriate investments for you. In addition, the type of account (e.g. a retirement account) is important in advising what securities to purchase. If he fails to fully consider your situation in recommending investments, he may be liable to you for recommending unsuitable securities for your purchase. In addition, if a broker recommends a high-risk stock, he must fully explain the risks you would be exposed to if you take his advice.



Unauthorized transactions.

Brokers have been known to buy and sell securities in their customers accounts without first obtaining agreement from the customer for the specific purchase or sale. He has violated the law in such cases if you have not given your broker discretion over your account in writing.



Fraud or misrepresentation

by your broker regarding either a security or the type of services to be rendered to you is a more subtle violation of his duties than those outlined above. You should expect a licensed broker-dealer and its financial advisors to render professional services in connection with your account. If you have been led to expect a certain level of service, for example by the broker-dealers advertising, you may have a claim if in fact that level of service has not been given. One case in which this can arise would be when you have been led to expect active management of your investments and instead the broker ignores your account after the initial purchases. Another example would be when a broker recommends a stock with no basis for the recommendation. This would not be the level of service you were led to expect. Recommendations should be based upon sound analysis by the broker-dealer.
There are many other situations in which a stockbrokers interest might be in conflict with yours and which lead to violations of the brokers duty to you. If you suspect that you have been a victim of an unscrupulous broker, give me a call .
Law Offices of Donald M. Feferman, P.C.
318 Bermuda Pl.
Corpus Christi, Texas 78411
Voice (361) 883-1830
don@feferman.com Site Resources Business Dispute Attorney Drug Offences Lawyer

Law Offices of Donald M. Feferman, P.C.:
Legal information presented at this site should not be construed to be formal legal advice nor the formation of a lawyer or attorney client relationship. Any results set forth here were dependent on the facts of that case and the results will differ from case to case. Please contact our Corpus Christi, Texas Stockbroker Fraud and Arbitration Law Firm.